Let's be honest, all year round we're dreaming of our next holiday…In SAP Business One set the holiday table for the year and make sure it is aligned with your business policy.
The Holiday Dates window is available from the "Holidays" field in the Company Details > Accounting Data. Here you can list the holidays for the year, define the weekend days, etc.
The checkbox "Set Weekends as Workdays" allows you to define whether to count weekend days as business days when calculating due dates. In addition, when running the MRP wizard you can define whether to consider the holiday dates for production items and/or purchase items.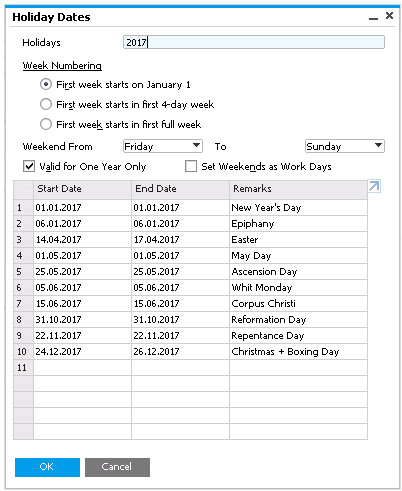 Available in SAP Business One 9.3, version for SAP HANA and SAP Business One 9.3.
We hope that you find this tip useful! For more information on Business One you can visit our webpage or get in touch.
Source: Ari Schapira | SAP Business One – The Tip of the Week