Congratulations! You have just hired new employees! You have created them user codes, allocated licenses and granted authorizations and… in one click you can assign them the initial form settings and preferences they need for their role.
Just browse to an existing user from the relevant department or of the same role and choose the "Copy Form Settings" button.
In the 'Copy Form Settings to Users' window select the new users to whom you want to apply the form settings and preferences of the current user: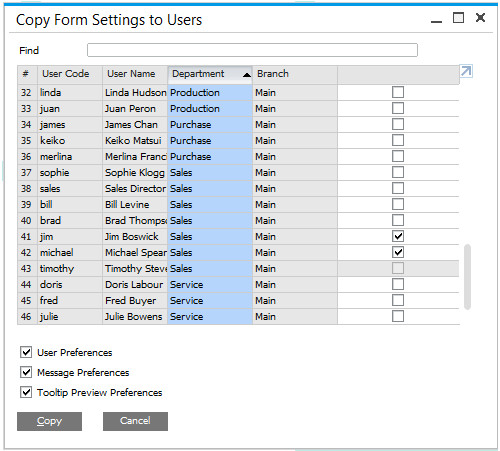 Now, just choose the "Copy" button. All the form settings are now applied to the selected users. In addition, you can also copy user preferences, messages, and tooltip preview preferences to the selected users.
Available in SAP Business One, version for SAP HANA and SAP Business One.
We hope that you find this tip useful! For more information on Business One you can visit our webpage or get in touch.
Source: Ari Schapira | SAP Business One – The Tip of the Week