If you are in the sales business, you know that handling and documenting returned goods is an inseparable task. Usually you may create the return document based on a previous document, such as delivery. However sometimes you have to create the return document from scratch.
For such cases SAP Business One enables you to choose how to maintain the item cost. Open the "Item Cost" field in the document lines (you may need to activate the field in form settings) for manual updating of the item cost to be used in the Return document.
Business One offers two settings that can be used to manage the default behavior for this functionality.
"Enable Setting Cost on All Document Rows by Default" sets "manage returns cost" to be the default on all the rows in the Returns document.
"Price List of Return Cost" selects a default price list from which a return cost will be obtained.
Either or both selections can be made. The settings can be found under Document Settings / Per Document for Returns documents – see the screen capture below: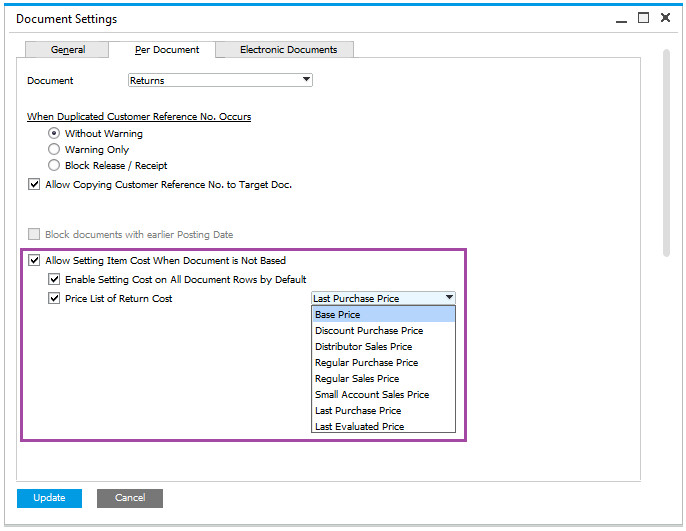 These settings are available for Returns and A/R Credit memo documents and are available since SAP Business One 9.0, version for SAP HANA PL06 and SAP Business One 9.0 PL06.
We hope that you find this tip useful! For more information on Business One you can visit our webpage or get in touch.
Source: Ari Schapira | SAP Business One – The Tip of the Week